Grease Bucket pumps are designed for quick and effortless greasing in applications that require large volume of lubrication on a daily basis. It's use extends from agricultural equipment to excavators and other earth moving equipment in automotive applications. They can be used by setting a high volume at high-pressure. Grease discharge where the pump delivers up to 9 grams of grease on high volume setting. The wetted components include steel, aluminium, brass and nitrile rubber.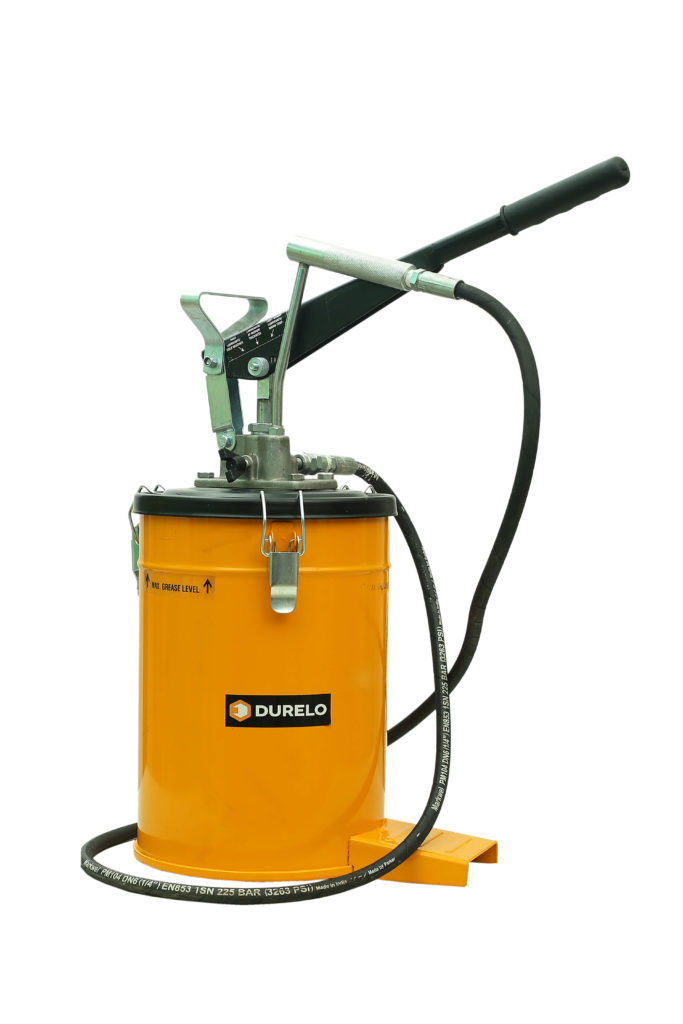 Features:
It develops up to 4000 PSI (275 bar) on High pressure setting.
It delivers up to 9 grams / stroke on high-volume settings.
It comes with a complete 2.2 m of high-pressure hose fitted and accessories.
Lever operated pump mounted over the cover of the drum.
The pump contains a steel construction cost head and solid steel pump chamber.
Benefits:
Quick and easy openable cover.
Includes an adjustable carry handle.
It has a high Grease discharge per stroke that makes it four times more efficient than most liver Grease guns.
They work manually without air pressure.
It saves the Grease as the excess grease Returns to the Grease bucket.
It eliminates dribble and mess on the couple a tip offering a clean disconnect without any mess.
The clip on lead keeps rain and dust away thus protecting the grease bucket pump.
Pressure return valve and standard G coupler Grease coupler prevents Grease vestige thus helping to save grease costs.
Maintenance Tips:
It is suggested to use oil mixed semisolid dust free Grease.
Do not replace skilled Grease from the floor on to the containers
The pressure horse and unit should always be kept clean with regular cleaning and monitoring.
Pressure should be released when not in use.
Buy OE quality parts at affordable prices from the comfort of your home through YantraLive.com