A rock breaker is special construction equipment fitted on an excavator or a backhoe loader for construction quarrying or demolition tasks. Such machinery utilizes the principle of hydraulics. Due to hydraulics, a breaker can exert enormous pressure against any concrete structure or rock from its hydraulic oil-filled cylinder and get the job done. 
Being a piece of critical and expensive heavy equipment for the construction sites, you should acquire one from ratified brands. One such denomination you can bank upon is YantraLive, a leading supplier of OEM-certified hydraulic pumps, filters, motors, and tons of other engine parts. One among them is the YantraLive rock breaker for Excavators and Backhoe Loaders.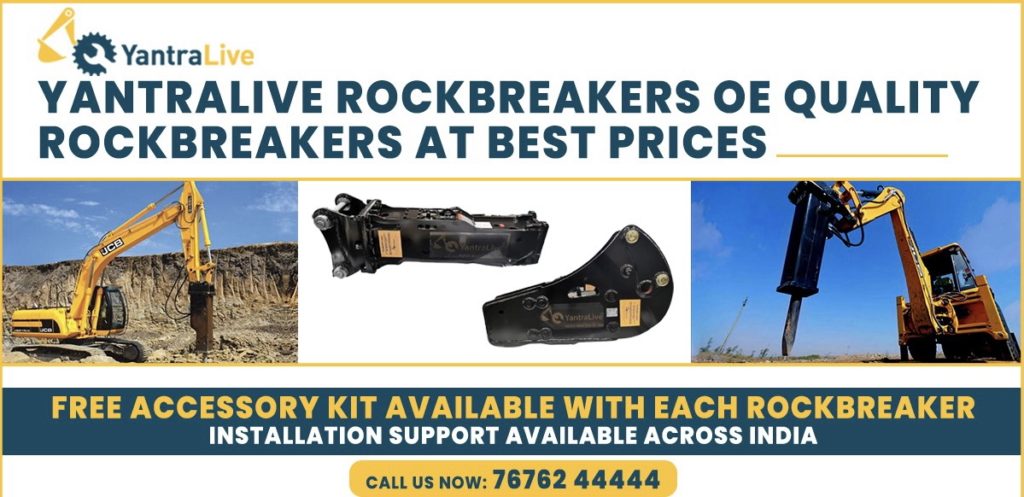 Why should you purchase YantraLive rock breakers for your Excavator or Backhoe Loader?
YantraLive rock breaker is a promising alternative for JCB rock breakers. Though you may feel why to replace a JCB rock breaker with that from YantraLive, here's why it's best to do so!!
Features of the YantraLive rock breaker over a JCB rock breaker:
Created for the professionals by the professionals:
YantraLive rock breaker is specifically designed and manufactured by industry professionals to aid in vigorous rock breaking and construction quarreling.
The rock breaker is OEM certified and stands atop all the parameters you'd wish to have from a rock demolisher.
The most reasonable price tag:
We know how expensive the buying process of a rock breaker is and the further elevation in its costs at the time of shipping and all. That's why, through our cost-effective and quick shipping through the air or by road, you'd get the best deal on YantraLive rock breaker.
Professional and free installation support across India:
Merely buying and selling doesn't complete your and ours job. That's why we offer a professional installation of all the components of the YantraLive rock breaker across pan India at zero costs.
Intelligent and optimized design:
Don't go by the size of the rock breaker. YantraLive rock breaker for JCB3DX/4DX is intelligently designed and optimized to yield an enormous pressure against the concrete structures or big rocks. Such a pressure likewise shortens the time consumption and increases work productivity.
Extended durability, reliability, and safety:
We, at YantraLive, are dedicated to your safety and that's why all of our equipment and parts are highly durable, reliable as per the OEM standards, and 100% safe for the operators.
Easy and economic maintenance over the years:
It's to be noted that the total expenditure of any equipment and spare part(s) is exclusive of its time-to-time maintenance costs. As every machine asks for regular maintenance for effective and optimal performance during its life, buying for YantraLive can save you a lot of such additional expenditures.
All these traits summarise why you need our YantraLive rock breaker over a JCB one. Do your bit for your Equipment, call us today for the best Rock Breaker deals.