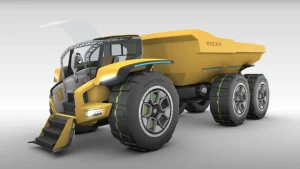 The MiningandConstruction industry landscape is gearing up for radical new developments thanks to the rapid progress being made in Artificial Intelligence and Internet of Things (IoT). The team at YantraLive has put together the forecasts from futurists in the industry how the innovations of today will impact the industries and their machinery of the future.
MINING
The mining sector is undergoing a sea change as automation andnanotechnology alter the nature of the activity and remove people from its risky aspects.
Future mining will most likely include a combination of autonomous, remote-controlled, and sophisticated robotic equipment. While people operate remote-controlled machines using simulators in much more comfortable settings, autonomous machines will undertake the duty-cycle, repetitive jobs. Based on actual ground conditions, such as travelling forward and backward across uneven terrain, these simulators will provide their users with tactile sensation.
Large robots of various sizes and forms are anticipated to replace humans in demanding tasks like bringing materials from below the ground to the surface. These may be enormous machinery that are working at once to excavate, refine, and drive.
Instantaneous human-to-human and machine-to-machine communication will be possible owing to the enhanced bandwidth of 5G connection (and beyond). Additionally, these machines will have more sophisticated analytics tools that can identify the material being mined and then relay that information back to operators so they can make immediate alterations.
Exploring New Frontiers
Future mining activities won't always be done from the ground. In search of resources that aren't easily accessible on dry ground, we'll be looking more and more to the ocean floor.
As technology advances, we will progressively mine resources from asteroids and other planets, which are rich in valuable elements yet difficult to get on Earth. These sorts of mining will be risk-free, productive, and economical thanks to autonomous and remote-controlled machinery that is programmed and managed by humans on Earth.
CONSTRUCTION
The building sector is one that is most in need of a total makeover and is expected to undergo significant transformation over the next 20 to 40 years.
In 2020, machines starting going electric. Over the following decades, more machines will go autonomous, particularly those that do duty-cycle labour, and they will converse more frequently with one another, manufacturers and robots alike, on the working site. The Internet of Things (IoT), robots, artificial intelligence, and more modular predesign are just a few examples of the technological advancements that will have a growing impact on construction equipment and procedures in the future.
One of the sectors where innovation is most needed is construction. Prefabrication and modularity are going to increase, and a lot of it will be due to developments in 3D technology.
Future building construction will use more sophisticated methods and technology that we are only now starting to fully utilise. In order to create "supertall" skyscrapers, commercial buildings, and residential dwellings, more prefabricated components, such as whole rooms and their furniture, will be produced in a specialised location before being put on the project site. Costs will go down as a result, and the constructing process will be made simpler.
Stay Connected with YantraLive
Founded in 2018, YantraLive is a B2B digital platform that acts as a one-stop shop for heavy equipment and their parts, spares, consumables, and services for buyers.YantraLive's operations are not just pan India, but overseas too. With the corporate credo 'Heavy Equipment Ownership Simplified' YantraLive, in a very short span of time has emerged as the most trusted name in the business.
YantraLive meets the needs of infrastructure companies, mining operators, fleet owners, retailers and workshops – providing them genuine spares and consumables at the most competitive prices. The company also deals in the purchase and sales of used equipment. Equally important, YantraLive provides IT enabled consultation to a large base of clients, helping them utilise the full potential of their equipment.